Minnesota Brothers Trail Series
Taking place in Central Minnesota, the Minnesota Brothers Trail Series will showcase the beautiful trails in the St. Cloud area. For those familiar with Mainly Marathons, this series will be utilizing many of the aspects that has made Mainly Marathons so popular. Some of these aspects include:
Start Times: All races start at sunrise, 5:30 AM.
Lap Courses: This promotes a sense of community on the course with support around every corner, along with plenty of opportunities to take in the delicious treats at the aid station. Loops will likely be round 2-4 miles each, depending on the location.
Course Descriptions: As the series name implies, this is a TRAIL series. These are not very technical trails, but there are "toe-catchers", grass, gravel, and dirt. Also, if it rains, that means the trails will likely have wet + dirt = mud. As any good Boy Scout or Girl Scout knows, Be Prepared! For additional details, see below.
Fantastic Food: Our food is delicious and plentiful. Options include tator tot scrambler, mini quiches, triple berry pancakes, french toast, quesaritos, smoothies, and more!
Distance Options: 5K, 10K, 50K, Half Marathon, and Full Marathon.
Generous Time Limit: Slightly different than Mainly Marathons, there will be a 12 hour time limit.
Discounts: Mainly Marathons participants can use the discount code in The Loony Bin newsletter and Mainly Marathons Facebook Group, and St. Cloud River Runners can use the discount code in the SCRR newsletter and SCRR Facebook group page. SCRR members can also use a one-time "Buy One Get One" deal for a free race of equal or lesser distance than a paid race in the series.
Fun Festivities: Following Bunyan's Boot (Day 4), we'll be having a free community event, "The Loonies", at The Pickled Loon in St. Cloud. "The Loonies" will be from 6:00-10:00 PM on Wednesday, July 17. Free food and Loon Juice in The Nest (upstairs)!
For those unfamiliar with these trails, we'll provide details on each course such as elevation change, terrain, and technical rating (1-5 difficulty scale).
---
---
Location: "Jail Trail" (corner of 15 Ave. SE and Minnesota Blvd)
GPS: 45.543606, -94.131191​
Terrain: Grass trail with many rolling hills and some steep climbs. There are a few "toe-catchers", such as tree roots.
Elevation: Lots of hills, ~250' of gain per lap.
Technical: 3 out 5 (Moderate)

Location: Mississippi River County Park
GPS: 45.721920, -94.230903
Terrain: Crushed rock trail with very few "toe-catchers".
Elevation: ~30' of gain per lap (~20' hill).
Technical: 2 out of 5 (Easy-Moderate)

Location: Bend in the River Regional Park
GPS: 45.731322, -94.214646​
Terrain: Crushed rock with little to no hills.
Elevation: Less than 10' of gain per lap.
Technical: 1 out of 5 (Easy)

Location: Quarry Park and Nature Preserve
​​GPS: 45.535609, -94.241481
Terrain: Crushed rock and packed dirt trail with a few small hills. A few small "toe-catchers".
Elevation: Less than 20' of gain per lap.
Technical: 1 out of 5 (Easy)
---
Minnesota Brothers Trail Series will follow Mainly Marathons' Heartland Series, allowing runners to complete 11 races in 11 days! Are you ready to turn it up to 11?! We'll have a custom "Running Ragged: 11 in 11" belt buckle for those that complete this loony challenge (all 11 races must be a half marathon or longer).
Prices until December 31, 2018:
50K - $110, Full - $100, Half - $85, 10K - $45, 5K - $35

January 1 - March 31, 2019:
50K - $125, Full - $115, Half - $100, 10K - $45, 5K - $35

April 1 - May 31, 2019:
50K - $140, Full - $130, Half - $110, 10K - $45, 5K - $35

June 1, 2018 - Race Day:
50K - $160, Full - $150, Half - $130, 10K - $55, 5K - $45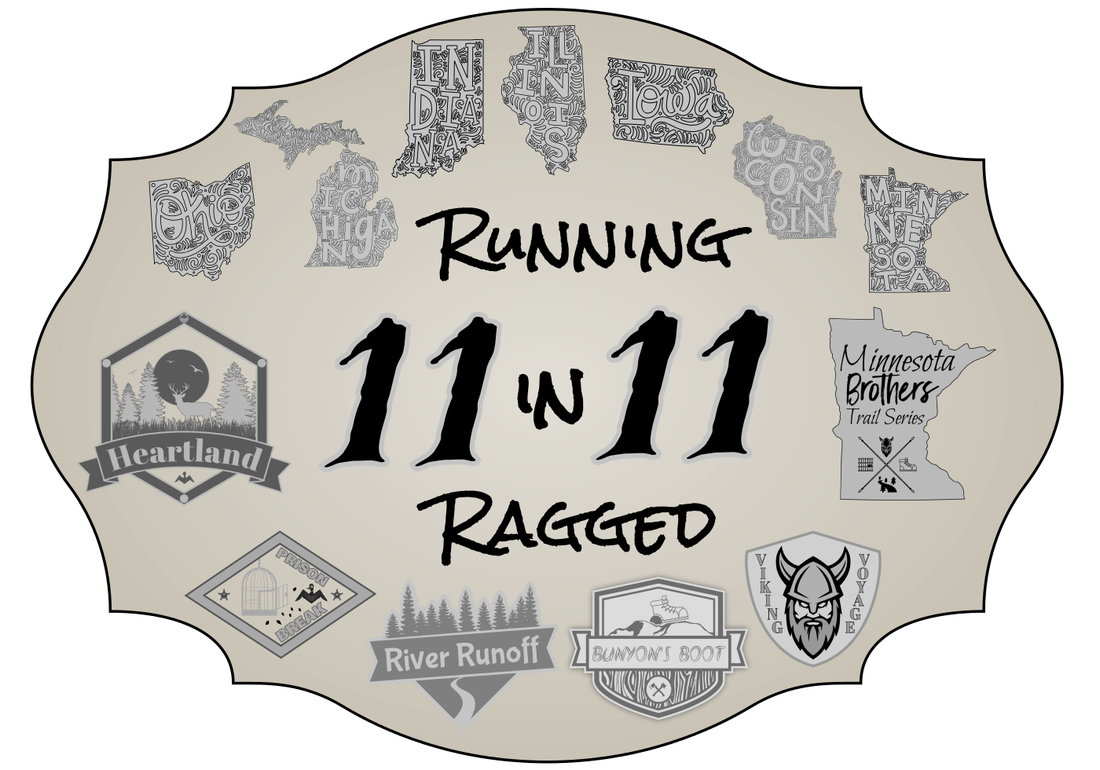 ---